Approving a Guest for Wi-Fi Access
By default, all guests, members of the public, or event-goers need to be sponsored in order to use the Wi-Fi. Only a Fanshawe Employee can sponsor someone to gain access to the Wi-Fi.
If you are a guest and are looking to get sponsored, please see this section instead.
1. Guest Request
Once a guest goes through the sponsorship instructions, he or she will be required to enter the email of the staff member at Fanshawe College. The staff member will receive the following email.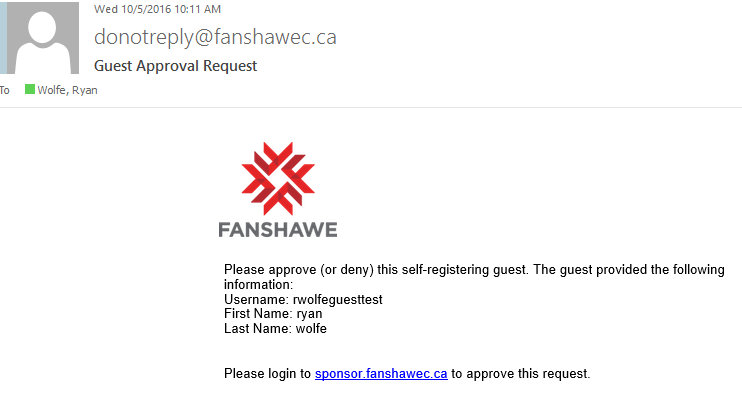 2. Visit the Sponsorship Portal
Once you get this email, you may either visit the link by clicking on the hyperlink in the email, or by going to https://sponsor.fanshawec.ca in your browser.
3. Log in
You will be presented with a login page. Log in using your Fanshawe credentials

4. Approve the account
The initial screen that will come up will allow you to manually create Wireless guest accounts. For these steps we just want to approve the one already requested so click on "Pending Accounts" at the top. Select the account you wish to approve and then select approve above it.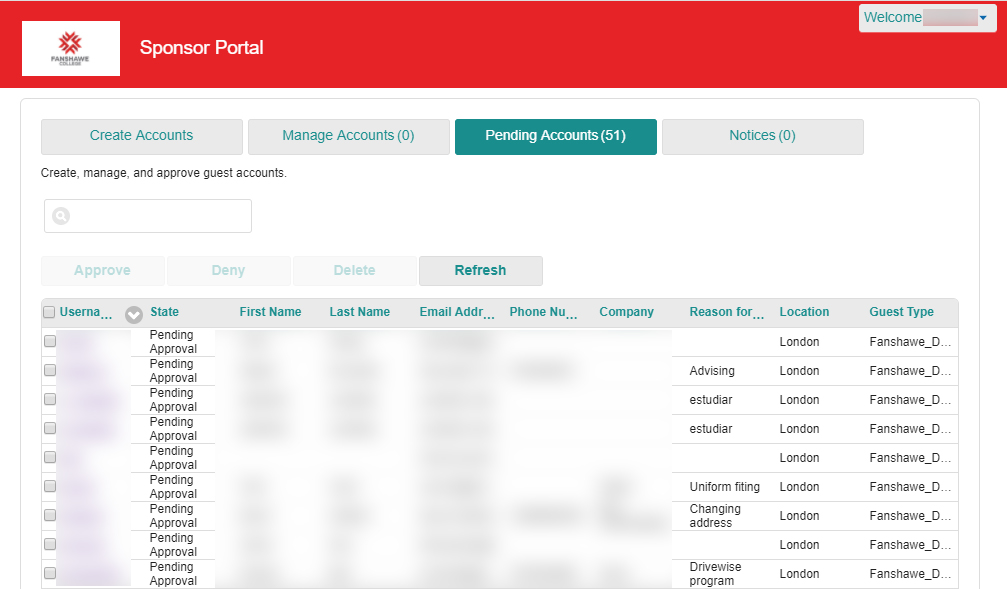 5. Guest Information
The guest will then get an email to the email account they used to register including the details they will need to login with.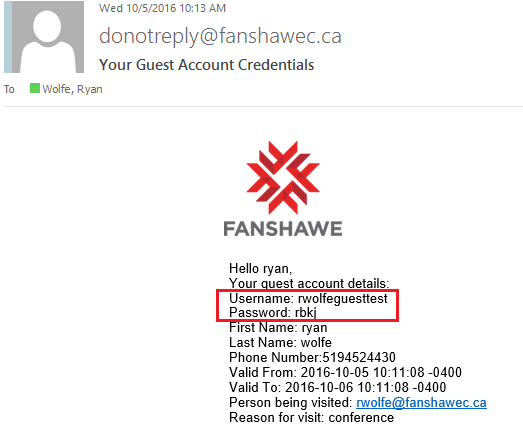 Managing an account
You can make changes to accounts that have been registered including increasing the length an account is available, changing password, edit settings and more. When logged in to https://sponsor.fanshawec.ca as a sponsor active accounts you have previously approved will be under Manage accounts. Click on "Manage Accounts" at the top, select the account you wish to make changes to the option above to make the change.

EDIT – Lets you change account information ie. Name, phone number, reason for visit.
* Note: You CANNOT change username once it is created
Resend – Will resend the current username and password. It gives an option to print or to send through email.
Extend – Allow you to extend the time guest account is available for up to 5 days.
Suspend – If you want to disable the account but not delete it. Enter a reason for the suspension.
Delete  – permanently remove an account.
Reset Password – Change the password. It gives an option to print or send through email.
Reinstate – Enable an account that has been Suspended.
FAQ
Q: How many devices can be used per account?
A: Fanshawe guest accounts can be used on 5 devices at one time.
Q: How long does a guest wifi account last?
A: By default a customer requested accounts last for 24 hours, the time frame can be extended using the tools under "Manage Accounts"
Q: We are having a large conference and there are going to be a lot of people there, do have to create an account for each of them?
A: Contact the IT Service Desk as we may need to set up a generic account depending on the event being hosted