Students who are enrolled in certain programs are entitled to receive a copy of Adobe Creative Cloud at no cost for the duration of their studies.
The Adobe Creative Cloud passwords are managed through Adobe. If you have lost your password, please use the Password Reset service that is offered through Adobe.
Visit Adobe to Reset your Adobe Password
The below are eligible:
What happens
Students enrolled in the above programs will be automatically added to the Creative Cloud Enterprise license. If you are enrolled in the program, and should have access, but don't – please contact us at the Contact Us page.
1. You will receive an email to your FanshaweOnline email with information
You will receive an email to your FanshaweOnline email address that will look like the following: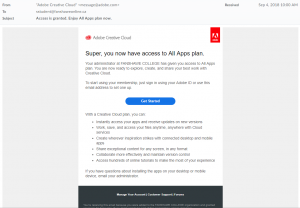 Select the blue "Get Started" button to continue to the sign-up page.
Note: In some browsers, you must right click, and select "Open in New Tab".
2. Fill out the Adobe Registration form
After clicking the Get Started button, you will be redirected to the sign-up form. Fill out your name (if incorrect), your password, and country. Please note that the Password may not be the same as your FanshaweOnline password. If you forget your password, you must use this link to reset it, as the IT Service Desk is unable to reset passwords for Adobe Creative Cloud at this time.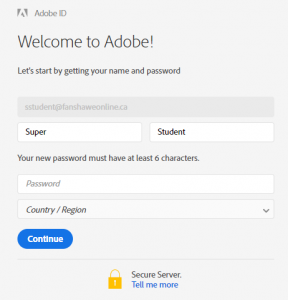 3. Read and Accept the Terms of Use
Please read and, check the "I have read and agree the Terms of Use", if you agree the the Privacy Policy and Terms of Use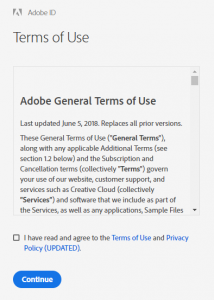 Click the blue "Continue" button to continue.
4. Download the Creative Cloud Desktop Client
After going through the Adobe Creative Cloud registration, you can now download the Creative Cloud Desktop Client to install all your applications. You may do so from here.
Select the Download from Adobe.com, Sign in, if required and click the "download" button at the top of the page.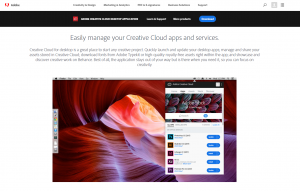 The download will start: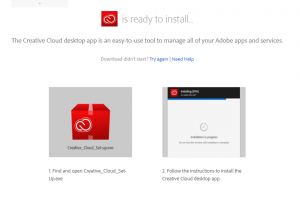 After the download has completed. Install the software (varies based on the operating system)
5. Install the Applications
After the installer has completed, you should see the the Creative Cloud Desktop client running in either the Mac taskbar (top), or the Windows system tray. Opening up the application may ask you to install an update. Proceed to install an update, if required. You may also be asked to log in again. Once the CC Desktop application  has opened, you may then install applications that you require.